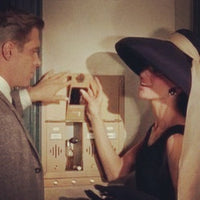 Get a babely bottle sent straight to your mailbox. Click shop to do so above. Scroll to read our story below.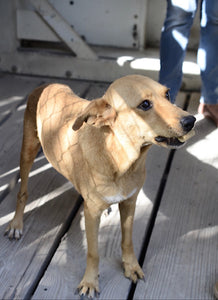 Fries's story - starts from what I know in her short but full three year life being found in a poverty stricken area of the island of Abaco in the Bahamas with a little boy as spay and neuter trucks were routing through the area to help the communities and over populating of stray Potcakes. The Royal Bahamian Potcake, as they are called, are a fascinating and beautiful breed but can have a rough life there. They are known for their smiles, grabbing with their paws like hands and they are survivors. She was sick and the boy said to take her, that they would be able to take better care of her. From there she wound up in the Abaco Shelter where she was eventually found by her heroes at The HIT Living Foundation who were there helping, who brought her to her home here in the States.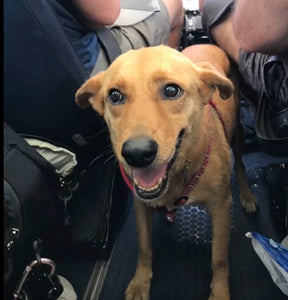 In the Bahamas, Fries had tick fever that they treated at the shelter as well as heart worm that they were treating, she was then to finalize that treatment here. She traveled by boat, plane and car to get here (this photo is care of HIT Living Foundation on one of her flights:) You can see how happy she was, however sadly once she arrived in Los Angeles they found that Fries had a rare condition where her body was producing too much protein to fight the heart worm that was affecting her kidneys and causing her little body to go into kidney failure. With the best rescue and doctors they determined she could not go through the treatment or she would be in more pain and probably pass faster, so she was put on a hospice forever foster program. I found Fries through them in that program, fell so in love and the rest of our story was sealed. It was a love story that I did not expect, lives with me forever, and obviously inspires me.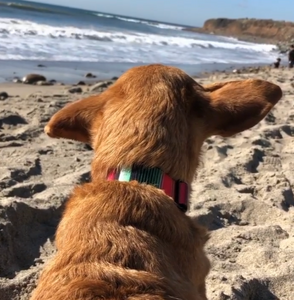 But Fries had joie de vivre! She was a smiley, sassy, sweet soul who was so stunning inside and out. She loved the beach, the couch, cookies, the car and to be out on the town when she felt she could. In our short time together you can see the impact she made on me, but also so many. Fries loved hard and open as I think she knew she was sick and what other way is there to live anyway. She retaught me that lesson big and she was a big, honest heart. The reason I even wanted to restart Doll was because of her as Suntanned, my previous scent that was still being asked for, was clearly now for her and a way for me to honor her, her strong spirit, effect on my life and spread that sunshine to others as well as be of service and give to help which is so interwoven into her story.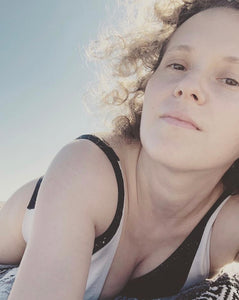 My own story stems from being exposed to synthetic scents, detergents, etc. and having symptoms then learning the effects of those products. Doll which was originally made as an oil just for me was then wanted by friends, at my shows, shops (I also worked buying vintage and writing for indie shops and magazines) and had it's own agenda getting lucky, accruing press partially from playing gigs, a film I was in that came out (Momma's Man) and getting picked up on its own in Lucky Magazine, TimeOutNY, Nylon, etc.. But it had musk in it, which though I loved, is synthetic so I stopped it after what I had gone through and learned. I then found these bottles l loved like the ones from the 70's I coveted but did not feel inspired to start again until Fries. Now completely natural and organic or wildcrafted/gotten in the best way I could find, Doll is updated in ingredients and mission. Also, ironically originally made to capture a beachy smell reminding me of trips as a kid to the Bahamas and elsewhere with my Mom and family. My love of perfumes also started as a kid when I would go into my Mom's bathroom cabinet and smell her Shalimar, Halston, then LouLou in the 90's plus oils I would by at concerts. Musks are always my favorite though, maybe because they mimic real skin and life/love. So this is also a natural skin musk.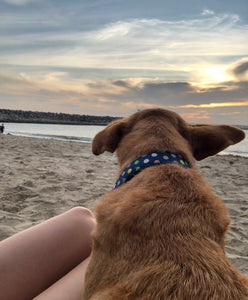 Ultimately, smells are nostalgic. This is a limited edition for now until it runs out though long may it run. May it also give you your own stories. This one is a love letter to my girl.